Blackjack Bonus Slot Details
On a surface level Blackjack Bonus stays true to the Blackjack game having the same goal – reaching the magical number 21. You will need to outscore the dealer in order to win and have a higher card score than the dealer without going over 21. You can also win by forcing the dealer to draw another card and thus causing them to go over 21 themselves. Simply hit a 21 from just two cards and ensure a win this way.
You are probably asking yourself what exactly makes this game different from traditional Blackjack? The moment you manage to score Blackjack you will not only win the round, but you will also be rewarded with a bonus.
How to Play?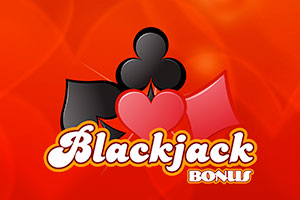 Playing Blackjack is not exactly an easy task. In order to become a player that is a constant winner, you will need to have a good grasp on math because you will need to work out the probability of winning. All your decisions will be based on probability, given that there are only 52 cards in the deck. This takes quite a long time to master, and we suggest you give the free version a try in order to get yourself familiarized with the game.
Special Features
The only special feature that this game has is the fact that you will be rewarded whenever you hit a 21. This makes a huge difference because the RPT from blackjack is somewhere around 99.5%. Adding the bonus might just push you over the edge in receiving a 99.8% RTP.
Conclusion
Very easy to understand and play but very hard to master. We suggest practicing and studying probabilities in order to become a winner at Blackjack bonus. For this game and all the other impressive titles available on the market, we invite you over to Syndicate Casino. Hope to see you as soon as possible!
Read less