Genie Wishes Slot Details and Gameplay
Do you know how you are supposed to rub a magic lamp to release the genie? Well, in this slot, you will destroy the lamp to explore the insides. If you are feeling lucky and want to double up your win, then you will have to tear down the poor genie's house and peek inside.
We are sure that you have played other slots with a double or nothing function, but this game's double feature will have you totally engaged by the action while also offering the chance at doubling up your wins. Normally you would have to draw a card higher than the house, but here, due to the design, you will find it far more enjoyable while the format follows the same principle.
How to Play?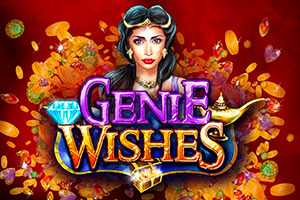 On the right side of the screen, you will find the Bet Max button right next to the Gamble feature. You can adjust the bet per line and the number of lines you want to play with from the bottom left side of the screen. The game has an auto spin feature that can also be found on the bottom right of the screen.
Slot Features
In the feature department, Genie Wishes does not disappoint. You can indulge in free games that are easily triggered, double or nothing with the lap feature, and the wilds can stack if you are lucky enough.
You are probably expecting the classic genie that was depicted in movies, right? Well, you would be wrong in this case, because you will encounter a female genie. Yes, some people might argue that it actually sexualizes the game in order to attract the male players, but the design is so top-notch that will attract both male and female players.
The variance is bearable, so you will be able to play this slot for extended periods of time. It has 5 reels that boost 10 paylines, and they are more than enough to maintain the variance low and offer constant wins. The rest of the design is inspired by the Ali Baba bandits.
Conclusion
Genie Wishes is all about making your wishes come true, or not. That is why we suggest that you keep one final wish and use it in order to score a big hit. The game is quirky, engaging, with a generous paytable.
Read less