Andar Bahar Slot Game Review
Andar Bahar has been brought to us by Ezugi, and it is being broadcasted live in a casino studio. It is a simple 50/50 game, a gaming concept that goes way back, with pretty straightforward basic rules. It is very easy to learn, and it seems to appeal to more people than expected, not only to the Indian players.
How to Play Andar Bahar Online?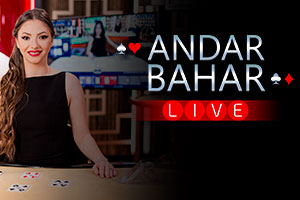 When the game starts, the dealer draws the first card of the deck, which will become the Joker. Now, the Joker is set face-up on the right side of the table, while on the left side, you will see the two playing positions: Andar and Bahar. Make a bet on which position will the next Joker card land.
The dealer will now deal with both positions, one by one, until a Joker card lands. Who guessed the correct side gets paid accordingly, and the round ends.
Free Spins and Other Bonuses
You are allowed to place side bets before the match starts, trying to guess how many cards will be dealt in total. 1 – 5 cards pay 3.5:1, 6 – 10 cards pay 4.5:1, 11 – 15 cards give 5.5:1, and so on. The biggest bet is 41+ cards where you get some whopping 120:1 odds!
RTP & Volatility in Andar Bahar
The game has an RTP percentage of 94.9% and low volatility.
Related Ezugi Slots
If you enjoyed the Andar Bahar card game and want to find other casino slots from Ezugi, then you should take a look at their website at Bet On Numbers HD, Super 6 Baccarat Live, or the Live Casino Lobby.
Read less