Blackjack Surrender Introduction: Gameplay and Theme
As most people became accustomed to the rules of Blackjack, Bgaming has decided to bring a fresh new take on the popular genre. The premise for this Blackjack Surrender is the fact that you can now surrender and can get to keep half of the bet, which is great for newbies. The design of the slot is pleasing and reminds us of those classic casinos from back in the days. The sound design is appropriate, and every action has a different sound effect, which is nice.
How to Play Blackjack Surrender Slot?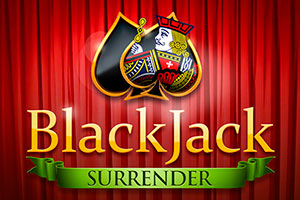 As you are probably aware, the point of Blackjack is to make sure you do not hit anything above 21 when it comes to cards. The cards numbered 2 to 10 will have their normal values while Jacks, Queens, and Kings are worth 10 points. Depending on the case, the Ace can either value 1 point or 11 points. This is determined by whether the hand will exceed 21 points. After being dealt two cards, players can choose to receive more cards by pressing the hit button. A player will win the hand if the cards value is 21 points or if the dealer busts. If a player exceeds 21, he will automatically lose the bet.
Special Features
As mentioned before, the best part about Surrender Blackjack is the fact that the house has less edge, and that means you can surrender before drawing new cards. In a typical game, a player would have to draw a card, and then, he would have the option to fold. Surrendering in this game would mean that you will receive half of your initial bet.
Conclusion
Whether you are an expert at this well-known card game or not, this new style of playing will surely benefit every type of player, especially the newcomers. Try it now at Syndicate Casino!
Read less