Pontoon Card Games Details
If you have played Blackjack, then we are sure you are familiar with just how exciting the game can be. Pontoon is the British version of Blackjack that has a few variations making it even more engaging. The card value and the ultimate goal are the same as in regular Blackjack, Pontoon also offers a five-card trick or a four-card trick.
If you do not manage to hit a Blackjack, you will still be able to win the hand if you can manage to draw for our five cards and not go over 21. This can be great fun if you manage to have two small cards in your initial two-card draw. This makes the dynamic of the free Pontoon card game different by adding extra layers of strategy.
How to Play?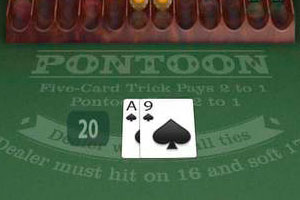 The rules are similar to those of Blackjack. It is a game played against the house; the player with cards closer to 21, when added, gets to win. Pontoon card game rules are a little more complex because you can also draw to 4 or 5 cards. Enjoy Pontoon card game online on Syndicate Casino to get a better understanding of the rules.
Table Game Features
The card game Pontoon is a pretty straightforward table game, so there are no special features involved. However, this doesn't make the Pontoon Casino game any less entertaining as the thrill of beating the dealer is always there. Also, since you can do so in more ways than just getting Blackjack, it makes things even more interesting!
Conclusion
Pontoon is a great choice if you are trying to wager a bonus because it has an insane 99.66% return to player. Most casinos will not offer amazing bonus wagering ratios when playing this game, but if you.
Read less