Magical Forest Game by Amatic - Online Video Slot Review
Welcome to the Irish gameplay that takes you on an adventurous forest trip where hushed voices call up to take some big stakes. It's dark all around that you could win over the elusive Leprechaun's treasure and enter the winners' record of this good game. Get the glory from this mystic darkness that enlightens your success path with some attractive free spins and jackpot bonuses. Let's discover the journey to converting your scant wagers to the immense size jackpots. Its standard 5-reels and 20 static paylines plot are worth a try. Who knows, you can rip the reels and collect a pot of golden coins that can gear up your fortune wheel!
Discover the secret behind the 750 coins pot
Magic Forest Game pokie gives a fair chance to players as the paylines are static that allows punters to jump off at any pay line straight away. There are a few things on which you can ponder to register high winnings such as spin the reels, coin amount, and betting range. Players can earn a reasonably high payout in this pokie machine, and their Irish icons are thoroughly money-making. You can wager on the symbols of a beetle, horseshoe, gold coins, mushroom, and a clover. Pay special attention to the beetle and mushroom symbols that offer a mega jackpot of 750 coins for 5 in the pay line.
Isn't this Irish Theme and Gameplay fascinating?
Australian players who fancy the forest-themed slots find this game a cheerful and exciting option to earn something good. Adequate secrecy depicts through the appearance and sounds from this mystic forest backdrop can take you to an unknown Splendora that is wonderful. Players keep figuring out along the game on the mystery and myth concept. The prominent Irish theme pops out well in the Green and black color scheme, but the subtle gameplay looks cool and enjoyable.
Now, let's learn how to play and win Magic Forest pokie online
You need to evoke the wild Leprechaun, who's a smart guy in green with a coin flaunting a cigar. He represents the vital Wild Symbol that assists you in gaining the high payouts by hitting winning combinations. You can earn up to 750 coins as a bonus winning prize against the exciting 5-symbol combination. The Scatter symbol is another compelling icon that can add 2000 more coins and 10 free spins, and a 3x multiplier as a bonus.
Alluring Magic Pokie RTP and Limits
This amazing pokie machine gives a medium volatility gameplay of 95%. Developed by Amatic, the Magic Forest Amatic is an exclusive Irish slot that fascinates its exciting visual appearance. It has 20 static paylines and 5-reel option to wager your stake. Bets start with 1, and the max bet can reach up to 100, grabbing a top win of 37,500 for the gamblers.
Magical Free spins and exciting bonuses
What if you spot a gold pot at the edge of a Rainbow? Players commonly discover it in the Magic Forest game and get an insight into mysterious opportunities and surprise bonuses. You can spot the Pot of gold as it is a scatter symbol that would give a lucrative payout in any position. Rewards are free spins available in 20, 40, 200 for a 2, 3, 4, or 5-of-a-kind. 3 or more symbol combinations on reels can trigger the bonus spins. At 10 free bonus spins, punters also get access to a 3x multiplier, which gives you impressive wins. Once you trigger multiple free spins, the winning amount depends on the betting range after activation of frees spins. The maximum bet of 5,000 makes it an ideal choice for low- and high-rollers.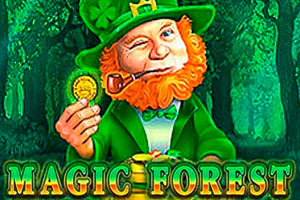 Travel the paylines to get big wins
There are at least 10 pay lines that ascertain the evenness of the game, and betting amounts are feasible even for the low-rollers. Excitement is on the verge when you explore the mythical riches of this phenomenal video slot. A standard 5-reel and 20-payline slot with static lines gives a fairer winning chance to the punters. You can bet on any pay line as it would not jump off from the reels.
Wild forest game can get some high payouts
Everything about this pokie is moderate, ranging from symbols to the warm Magic wonder. Attractive card icons grant a festive twist to the game in vibrant colors and combinations of 9,10, Jack, Queen, and King. They are worth considering symbols for the beginners as they can open up your winning account a least. Small gameplay can sometimes get you some big wins as card symbols can offer you the 125 credits for a 5-of-a-kind bet. Four-leaf Clover and a Horseshoe can grant you a high payout along with several splendid rewards. 5 gold coins at reels of a winning pay line can also get a 400 credit payout for the punters.
How to earn Online Real Money Australia with the Magic Forest?
All-in-all, the Magic Forest game is a crisp and straightforward gameplay that never fails to amaze the punters with some good rewards. Although you can indulge in this pokie for free, an excellent rewarding win for some real money is always a better idea. Gamblers can activate wild winnings with a gold coin and pay you generously with payouts at the range of 10, 250, 2500, and 7500 to combine symbols like 2, 3, 4, and 5.
Try other online similar video slots to make Big wins
If this Amatic creation dives you into a magical forest adventure and gets some real money, there are a few other similar options that could amaze you. Online slots following this line are Gold or Vegas by Microgaming or Baby by IGT.
Read less