Scratch Match Slot Game by Evo Play
Scratch Match slot is based around instant lottery games and offers you a lucky ticket with numbers. This means there are no paylines or reels. The gameplay is relaxing and super simple, and the playing rounds can earn great points.
How to Play the Scratch Match Slot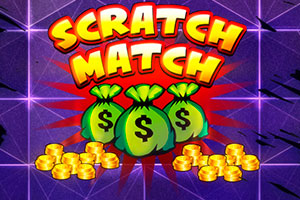 You can play the slot game and win on both mobile devices and PC. Since there are no paylines or reels, the slot has a row of lucky numbers that act as lotto draw numbers. Players can choose to play with 10 or 20 cells, which you scratch to reveal a lucky number, and the cash wins to expect. So, if your lucky number appears on the draw numbers, you're awarded. For a more massive prize, you can try your luck with the 777 numbers.
The game offers controls on the left of the play screen. These controls allow you to adjust cell prices and the number of cells. Below the cells is the 777 Bonus button, and next after it, the Start button. At the very bottom, you have the Total and Cash windows. For game rules, you can click on the Question Mark icon, and if you want to mute the game, there's a button after the question mark icon.
Scratch Match Slot Special Features
This game offers one unique feature, the 777 Bonus. This option allows you to bet and win a Super Prize. When using the 777 feature, your bet is doubled.
Conclusion
Play Scratch Match and win exciting prizes if your numbers match with the lucky draw. The game is fun and straightforward, which makes it perfect for relaxation.
Read less