Mini Baccarat Review
Play'n GO is known in the industry as an excellent provider of online slots and table games. The Mini Baccarat online we're reviewing today stands an extra proof of that. No matter if you're looking for info on how to play Mini Baccarat, or you've already tried this game and you're looking for a certain Mini Baccarat strategy, we've got you covered.
How to Play Mini Baccarat Online?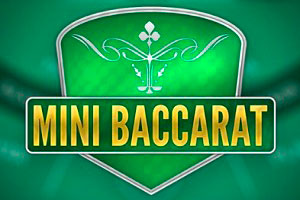 Before we jump to Mini Baccarat tips, it's good to cover the basics of this game. Just like the regular Baccarat, you will see two hands on the screen – one, which is yours, and the other one that belongs to the dealer. The goal is to reach a hand as close to 9 as possible. There are three possibilities involved:
You win the hand
The bank wins the hand
The hand ends in a tie
For starters, both you and the dealer get two cards. If the sum of these two cards reaches sums up to 8 or 9 for the banker or the player, the hand ends, and the results are displayed. If your first two cards only sum up to 5 or less, you'll get another card. These are the main Mini baccarat rules.
The value of the cards in baccarat is the following:
Ace = 1
Face Card = 0
10 = 0
2-9 = Face Value
RTP & Volatility in Mini Baccarat
When talking about RTP in a game of Baccarat, things aren't as straightforward as with online slots. Since you have multiple options at hand, the possibility to stand or ask for another card, the possibility of a tie, etc. This leads to a variable RTP in Mini Baccarat, which can range from 85% in case of a Tie and up to 98% for a dealer's hand. The same stands with volatility, as we can't really discuss fixed volatility in this case.
Related Play'n GO Games
There are multiple other variations of Baccarat games from Play'n GO. Feel free to give Multi-Hand Baccarat, Blackjack, or Casino Hold'Em a shot!
Read less